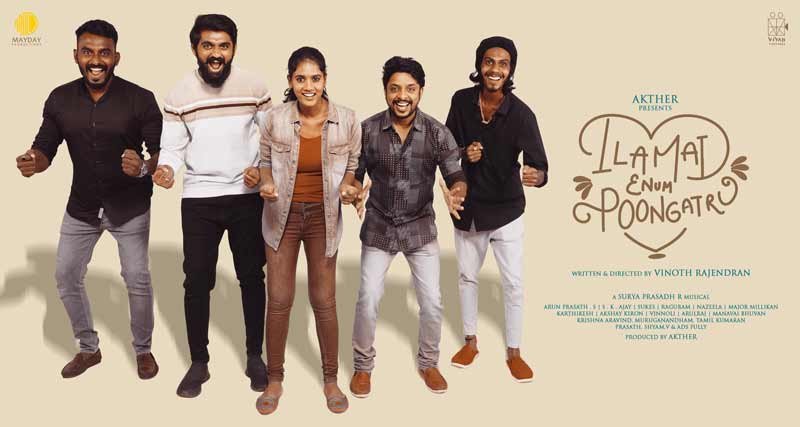 Ilamai Enum Poongatru (Film)
Movie Title
Ilamai Enum Poongatru
Genre
Romantic
Release Date
14 October 2022
Language
Tamil
Duration
1 Hour 50 Mints
Colour / Black & White
Colour
Star Cast and Role
Sakthi velmurugan as Arjun
Brana abdulsalam as Tara
Nithin muralidharan as Nithin
Abilash ayyappan as Sarathy
Yakub khan as Ezhil
vinoth kumar as vinoth
Nirmal kumar as Ajay
Chandra premkumar as vaali kumar
Yamini ramachandran as Sangavi
Director, Producer & Writers
Directed by
Vinoth Rajendran
Producer
Akther
Writers
Vinoth Rajendran
Other Crew Member
Choreographer
Sukes
Music Director
Surya prasad R
Editor
Arun Prasath
Digital PR
Ahmed Asjad
Production Status
Ready for Release
SYNOPSIS (Story)
The movie revolves around Thara, a very mature, broad-minded and happy-go-lucky girl who is seen in the
opening scene sitting on a cliff all by herself,t hinking of her past. Memories hit hard when she looks back her life from the train journey that brings her to Chennai from Coimbatore.
She is all set to start a new life after breaking up with her ex-boyfriend Sarathy, a narrow minded control freak. She carries her dream of becoming a video jockey in television and enters the city with hope. Being
accommodated byher friend Sanghavi, the journeyto her destination begins.
Loveisimmaculate only when you don't get to live it. Sarathy was madly in love with Tharafor four long years. But
it took only half an year to shatter it once she gets into relationship with him. Now that he can't have her, he falls head over heels for her again.
Not much longer after she moves in with Sanghavi, they decide to catch a movie where Thara meets Arjun,
a young talented freelance cameraman who works for a YouTube channel, Simultaneously trying to prove his
work in television. Itis meet cute and they get along really well.
Arjun points out that there is an opening in his workplace for VJ. Thara lands the job right away and finds herself falling for Arjun even more everyday. Arjun reciprocates those feelings too. The unsaid chemistry dwindles their world. Thara is extremely happy with Arjun and her dream feels closer than ever.
Sarathy interferes in Arjun and That's fairytale. He never misses a chance to disturb or irritate her by stalking and repeatedly calling her from random numbers. Thara finds Sarathy super annoying. Arjun comforts Thara yet is completely frustrated. Sarathy pleads to Arjun for giving him another shot with Thara after being admitted in the hospital for attempting to suicide.
Thara strongly advocates that nothing could change her take on Sarathy. But to prove that and to escape
guilt, she agrees to live with him for 10 days. By every passing day, her hate for him grows more. On her birthday, he brings Arjun as a surprise to his home where Thara lives now. Astonished by Sarathy's behavior, Tharais guilt tri- pped not to confess her decision. But something else happens, that makes Thara think twice on rejecting Sara- thy. Walking on a tightrope, she doesn't even know what she wants and whom she wants to be with. She leaves the place immediately.
The rest of the story climbs up to the climax on what and how she decides and whom she chooses. Thisbold ro-
mantic drama is designed in perspective of women which portrays how much a women faces to choose her
life on her own terms and some of what stops her from choosing the desired path and how her love is taken for
granted and how she is mistreated in the name of 'Love' and how almost no men understand what the
meaning of 'No' is and how her dreams and career are not taken seriously. A daring attempt in revealing
today's relationship drama reality it is.