'Panipat' – the magnum opus created by well- known Bollywood director Ashutosh Gowariker is all set to be released on 6 December 2019. It is an historical war based movie where the epic battle – the third battle of Panipat will come to life in the big screen for the first time in Bollywood. Panipat is starred by the Arjun Kapoor, Sanjay Dutt and Kriti Sanon in the lead roles. Panipat is being produced under the banner of Ashutosh Gowariker Production and is also produced by Nunita Gowariker and Rohit Shelatkar.
The story of Panipat movie is that during the 18th century, the Marathas have established the most powerful empire all over India. But the eyes of the cruel Afgan ruler Ahmad Shah Abdali have been set upon the India. He planned to take over India and crush the Maratha Empire. He was even aided by the traitors of India – the Rohilla Afgans and Shuja- Ud – Daula, the Nawab of Awadh. Thus, to stop Ahmad Shah Abdali from attacking the Marathas, the Maratha Peshwa has ordered Sahashiv Rao Bhau to stop the enemy forces at any cost. Though the Marathas lost the war, but this film is all about the courage and valor shown by the Marathas for the love towards their motherland.
The movie – Panipat has a wonderful cast members like Arjun Kapoor as Sadashiv Rao Bhau, Sanjay Dutt as Ahmad Shah Abdali,Kriti Sanon as Sadashiv's wife Parvati Bai, Mohnish Bahl as Nana Saheb Peshwa, and other cast and crew. Panipat has also featured the yesteryear's actresses – Zeenat Aman and Padmini Kolhapure in strong and pivotal roles of Sakeena Begum and Gopika Bai respectably. Moreover, Panipat is also the debut film of popular TV actor Avinash Nigam who is known to portray historical roles in various TV serials.
Therefore, Panipat is the movie which is gladly being waited by many movie buffs. Hope this movie" Panipat" breaks all the records.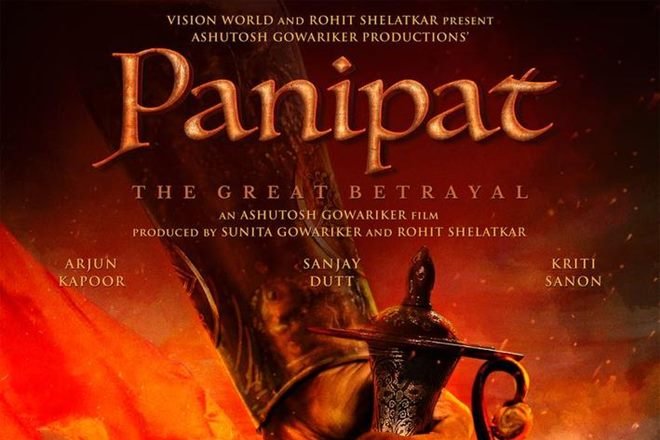 Panipat (film)
Movie Title
Panipat
Genre
Action | Drama | Historical | Period
Release Date
06 Dec 2019
Language
Hindi
Duration
170 minutes | 2h 50m
Star Cast and Role
Star Cast
Role
Arjun Kapoor
Sadashiv Rao Bhau
Sanjay Dutt
Ahmad Shah Abdali
Kriti Sanon
Parvati Bai
Mohnish Bahl
Nana Saheb Peshwa
Padmini Kolhapure
Gopika Bai
Zeenat Aman
Sakina Begum
Sahil Salathia
Shamsher Bahadur
Kunal Kapoor
Shuja-ud-Daula
Abhishek Nigam
Vishwas Rao
Ravindra Mahajani
Malhar Rao Holkar
Gashmeer Mahajani
Jankoji Shinde
Nawab Shah
Ibrahim Khan Gardi
Mantra
Najib-Ud-Daula
| | |
| --- | --- |
| Director, Producer & Writers | |
| Directed by | Ashutosh Gowariker |
| Producer | Sunita Gowariker | Rohit Shelatkar |
| Writers | Ashok Chakradhar |
| | |
| --- | --- |
| Other Crew Member | |
| Choreographer | C.K. Muraleedharan |
| Music Company | Zee Music Company |
| Editor | Steven Bernard |
| Cinematography | C. K. Muraleedharan |
| Music Director | Sunita Gowariker | Rohit Shelatkar |
| Company | AGPPL |
Panipat – Official Trailer (Reliance Entertainment)
Watch on Youtube