Scream (or Scream 5), an American slasher movie and fifth in the Screams series, saw a theatrical release in the United States by Paramount Pictures on 14th January 2022. Radio Silence are the directors of Scream; Matt Bettinelli-Olpin and Tyler Gillett are part of the collective for this film. Also, Guy Busick and James Vanderbilt are its writers. Scream 5 is the direct sequel to Scream 4 and dubbed as a relaunch of the Scream series. 
The cast of Scream includes Mason Gooding, Melissa Barrera, Jack Quaid, and Jenna Ortega. In addition, other cast members of the film such as Neve Campbell, Courteney Cox, Skeet Ulrich, Marley Shelton, and David Arquette are seen reprising their roles from the earlier installments. 
Scream will have a digital release on 1st March 2022. Also, Paramount Entertainment will be releasing the film on DVD, Blu-ray, and Ultra HD Blu-ray later on.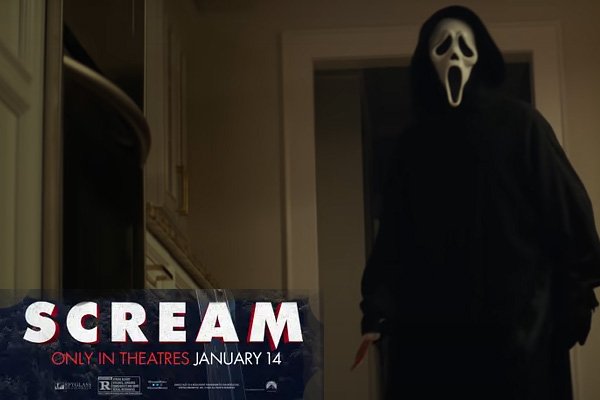 Synopsis
Following 25 years since the Woodsboro series of murders, Tara Murderer gets attacked by Ghostface when she is home alone; she is hospitalized because of the assault. Sam Carpenter (who is Tara's estranged sister) and Richie (Sam's boyfriend) arrive in Woodsboro to visit Tara at the hospital. What follows is a series of murders by Ghostface. In all, the movie revolves around how Sam, Tara, and others are attacked by Ghostface, which leaves some dead and many injured.
Scream 2022 (Film)
Movie Title
Scream (also known as Scream 5)
Genre
Horror| Thriller| Mystery
Release Date
January 14, 2022
Language
English
Duration
114 minutes
Star Cast and Role

Jenna Ortega as Tara Carpenter

Neve Campbell as Sidney Prescott

Mason Gooding as Chad Meeks-Martin

Mikey Madison as Amber Freeman

Dylan Minnette as Wes Hicks

Melissa Barrera as Sam Carpenter

Jack Quaid as Richie Kirsch

Marley Shelton as Sheriff Judy Hicks

Skeet Ulrich as Billy Loomis

Jasmin Savoy Brown as Mindy Meeks-Martin

Sonia Ben Ammar as Liv McKenzie

Kyle Gallner as Vince Schneider

Roger L. Jackson as the voice of Ghostface

Heather Matarazzo as Martha Meeks

David Arquette as Dewey Riley

Courteney Cox as Gale Weathers

Reggie Conquest as Deputy Farney

Chester Tam as Deputy Vinson
Director, Producer & Writers
Directed by
Matt Bettinelli-Olpin

Tyler Gillett

Producer
William Sherak

James Vanderbilt

Paul Neinstein

Writers
James Vanderbilt
Guy Busick
Other Crew Member
Choreographer
Brett Jutkiewicz
Music by
Brian Tyler
Production
companies
Spyglass Media Group
Project X Entertainment
Radio Silence Productions
Distributed by
Paramount Pictures