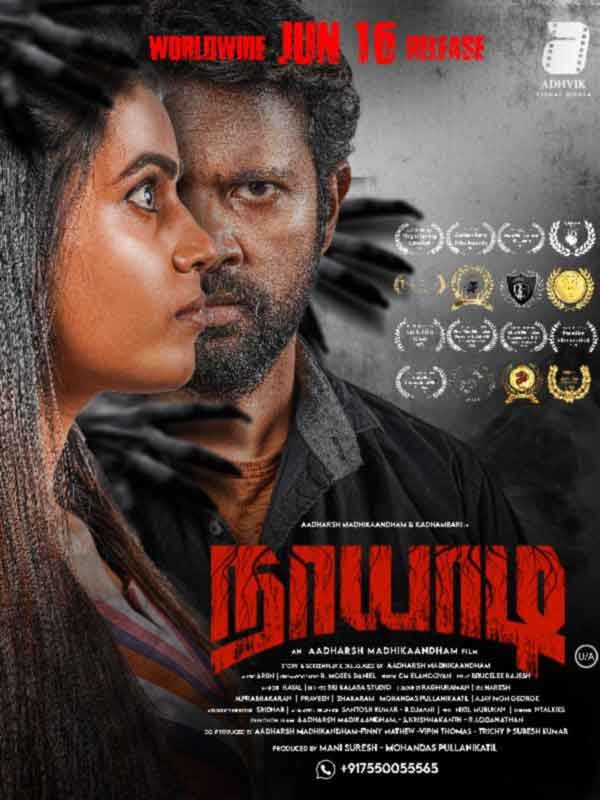 Naayaadi (Film)
Movie Title
Naayaadi
Genre
Horror | Suspense| Fantasy| Thriller
Release Date
16th June 2023 (Theatrical)
Language
Tamil
Duration
102 minutes
Colour / Black & White
Colour
Naayaadi Trailer
Watch on Youtube
Star Cast and Role
Aadharsh Madhikaandham as Aadharsh
Kadhambari Sowmya as Mithra
Malavika Manoj as Swathi
Fabby as Fabby
Aravinth samy J as Aravind
Nivas S. Saravanan as Niwas
Ravichandran K as Ravichandran
G Geetha lakshmi as Mithra
Director, Producer & Writers
Directed by
Aadharsh Madhikaandham
Producer
Mohandas Pullanikaatil, Mani Suresh, Finny Mathew ,Vipin Thomas and Aadharsh Madhikaandham
Writers
Aadharsh Madhikaandham (Story Screenplay and Direction)
Other Crew Member
Choreographer
Mosses Daniel
Editors
C.M.Elangovan
Music
Arun
Digital PR
Ahmed Asjad
Synopsis
Ancient India 1000's of years ago is filled with mystery and it is believed the witchcraft voodoo and black magic originated from ancient India. 
There were several tribes involved in worshiping dark gods and performing human sacrifices. 
At present an old couple buys a 200 year old bungalow to convert into a resort but to their horror they finds out the estate has a  supernatural entity 
They seek help from a group of young youtubers to find more about the supernatural presence.
Will the young youtubers be able to find out the centuries old secret and reveal the truth. What is the connection between them , the estate and Naayaadi ?