The Tulsi Vivah is one of the most important Hindu rituals which marks the marriage ceremony between the Tulsi plant and Lord Vishnu. This ritual falls on the Hindu calendar's most important day called Dev Uthani Ekadashi. This Ekadashi Tithi falls on 25 November 2020 and ends on Dwadashi Tithi on 26 November 2020. On this day, the Hindu devotees celebrate the celestial union of the holy Tulsi plant and Lord Vishnu- the protector of the realm.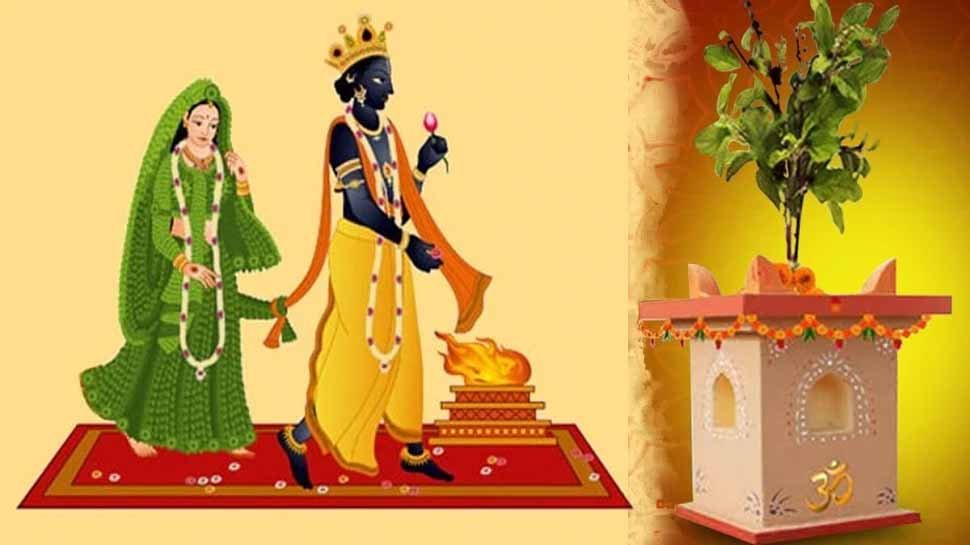 Tulsi Vivah 2020: A Significant Day in Hindu Calendar
Tulsi (Basil) leaf considers holy as per the ancient Hindu scriptures and Hindu culture. According to Hindu mythologies and scriptures, once Tulsi Mata cursed Lord Vishnu.  It turned him into a black rock. He became a Shaligram rock and married Tulsi Mata to protect himself from this curse. Tulsi Mata is also known as the incarnation of Goddess Lakshmi.
It is believed that Lord Vishnu goes to sleep for a 4- month duration (Chaturmas). The sleep duration ends on the Purnima Tithi of Shukla Paksha in Karthik month. After the sleep period ends, Lord Vishnu wakes up on Devuthani Ekadashi. On this day, Hindu devotees celebrate the holy marriage of Tulsi and Lord Vishnu. This day is also considered fortunate since it marks the beginning of the auspicious period of Hindu marriages. It also marks the onset of other auspicious rituals and tasks.  
Tulsi Vivah 2020: Date and Auspicious Timings for Rituals
The holy marriage rituals between the Tulsi plant and Lord Vishnu (Lord Shaligram) start on 25 November, on the day of Devuthani Ekadashi. The auspicious time (Godhuli period) begins at 2:42 AM and ends at 5:10 AM, 26 November.
 In some places, Tulsi Vivah is celebrated on Dwadashi Tithi. The auspicious time (Amrit period) starts at 5:10 AM on 26 November and ends at 7:46 AM on 27 November.
Ekadashi Tithi starts – 02:42 am on November 26, 2020
Ekadashi Tithi ends – 05:10 am on November 26, 2020
Tulsi Vivah Date: 26 November  2020