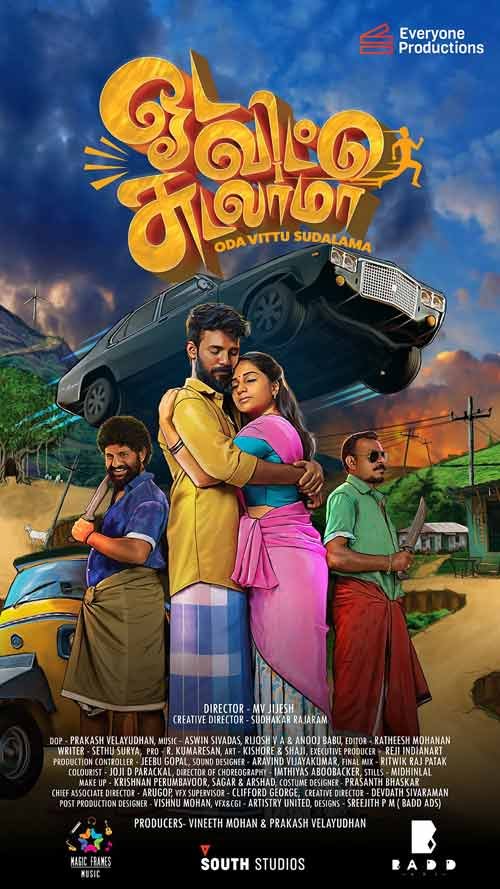 Oda Vittu Sudalama (Film)
Movie Title
Oda Vittu Sudalama
Genre
Thriller
Release Date
2 August 2023 (Theatrical)
Language
Tamil
Country of Origin
India
Duration
1.50 Hours
Colour / Black & White
Colour
Youtube Trailer
Watch on Youtube
Star Cast and Role
Yugan Raj as Selvam
Pathmaa Gopika as Amutham
Vineeth Mohan as Siruthai Senthil
Satheesh Varikkattu as Muthu
Maheshwar as Daniel Ona Nicholas
Sruthi Shibu as Isha Silverster
Director, Producer & Writer
Directed by
Mv Jijesh
Producers
Vineeth Mohan, Prakash Velayudhan, Satheesh Varikkattu
Writer
Sethu Surya
Other Crew Member
Cinematographers
Prakash Velayudhan
Editors
Ratheesh Mohanan
Music
Ashwin ,Sandeep, Rijosh Va, Anooj Babu
Digital PR
Ahmed Asjad
Pro
Sakthi Saravanan
Production Companies
Everyone Productions
Synopsis :
The Story Begins With Selvam, an Auto Driver, Travelling by a Car From Cumbam to Coimbatore on a Purpose of Delivering It to a Client. On the Way of His Journey , He Has Got to Pick Up Some Crew, Consisting of Three Persons, Who Tell Him That They Are Going to Deliver Some Unofficial Stuff to Somebody in Coimbatore.
The Journeys Starts..
After Sometime of Their Wheels Rolling., They Come to Know That the Car Has Some Mysterious Features Like a Ghost Followed by a Murder Which the Car Has Done on Its Own.,even though They Wanted to Avoid It. Stunning by This Incident, They Stop the Car and the Car Communicates Them by His Special Feature and It Tells Them That It Needs Their Help for Its Revenge.
Will They Accept the Offer?..
If Yes, Will They Complete the Mission..?
It Forms the Rest of the Movie Which Has a Twisting End..