Bhabi Ji Ghar Par Hai (BGPH), the translation of which is Bhabhiji at home, is based in the fictional "Modern Colony" of Kanpur in the Indian state of Uttar Pradesh. This Indian sitcom premiered on &TV on 2nd March 2015 and is available digitally on ZEE5. Binaifer Kohli is the producer of the BGPH series, which comes under the Edit II Productions banner. BGPH takes inspiration from the Shrimaan Shrimati show, a 1994 Hindi sitcom. Raghuvir Shekhawat and Manoj Santoshi are the writers of the show.
The sitcom features the Mishra and the Tiwari couples, who are neighbours. Vibhuti Ahuti Narayan Mishra (essayed by Aasif Sheikh) and Anita Vibhuti Narayan Mishra (played by Saumya Tandon) feature as the Mishra couple. Manmohan Tiwari (portrayed by Rohitash Gaud) and Angoori Manmohan Tiwari (depicted by Shubhangi Atre Poorey) represent the Tiwari couple.
In the BGPH series, the husbands (Vibhuti Narayan Mishra and Manmohan Tiwari) are attracted to each other's wives. The show focuses on how they both attempt to impress each other's wives. However, both men fail all the time to get the attention of their neighbor's wife, which makes for enjoyable viewing.
While the Tiwaris reside in House No 6, the Mishras live in House No 9. The plot unfolds in their homes. However, they regularly visit "Gupta Tea Center" to discuss general and societal issues too.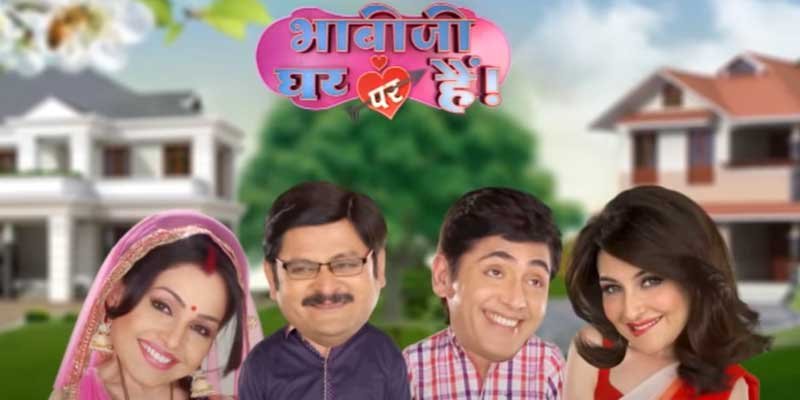 Release Date: 2 March 2015 – present
Producers: Binaifer Kohli /Sanjay Kohli
Written by:  Manoj Santoshi / Raghuvir Shekhawat
Screenplay by: Shashank Bali /Sanjay kohli
Story by: Manoj Santoshi
Directed by: Shashank Bali / Rajan Waghdhare
Starring: Aasif Sheikh, Neha Pendse, Shubhangi Atre, Rohitash Gaud
Image
Cast Name
Shilpa Shinde as Angoori Manmohan Tiwari (2015 – March 2016)

Born: 28 August 1972, Mumbai, Maharashtra, India
Qualification: Graduate in Psychology
Debut: Film Name- Chhina (2001) | TV- Kabhi Aaye Na Judaai (2001)

Aasif Sheikh as Vibhuti Ahuti Narayan Mishra (Vibhu)

Born: 11 November 1964, Delhi, India
Height: 1.78 m
Spouse: Zeba Sheikh

Rohitash Gaud as Manmohan Tiwari

Born: 24 March 1966, Kalka, Panchkula, Haryana
Height: 1.68 M
Spouse Name: Rekha Gour (m. 2002)

Shubhangi Atre Poorey as Angoori Manmohan Tiwari

Born: 11 April 1981, Indore, Madhya Pradesh
Height: 1.58 M
Spouse Name: Piyush Poorey

Saumya Tandon as Anita Vibhuti Narayan Mishra (Anu) (2015 – 2020)

Born: 3 November 1984, Bhopal, MP
Height: 1.73 M
Spouse: Saurabh Devendra Singh (m. 2016)

Neha Pendse as Anita Vibhuti Narayan Mishra (Anu) (2021 – 2022)

Born: 29 November 1984, Mumbai, Maharashtra
Height: 1.65 M
Spouse(s): Shardul Singh Bayas ​(m. 2020)​

Vidisha Srivastava as Anita Vibhuti Narayan Mishra (Anu) (2022– present)

Born: 28 April 1991, Varanasi, Uttar Pradesh, India
Height: 1.65 M
Spouse(s): Sayak Paul ​(m. 2018)

Saanand Verma as Anokhelal Saxena

Born: 24 April 1982, Patna, Bihar
Height: 1.68 M
Qualification: Bachelor of Arts (B.A.)

Yogesh Tripathi as Daroga Happu Singh

Born: 11 August 1979, Rath, Hamirpur, Uttar Pradesh
Spouse: Sapna Tripathi

Kishore Bhanushali as Resham Pal Singh
Vaibhav Mathur as Teeka Ram
Deepesh Bhan as Malkhan
Syed Salim Zaidi as Tillu
Khushboo Kamal as Badami
Vishwajeet Soni as Prem Chaudhary
Akshay Patil as Pelu Chaurasia
Soma Rathod as Ramkali Tiwari (Amma Ji)
Falguni Rajani as Gulfam Kali
Anup Upadhyay as David Mishra
Jeetu Gupta as Dr. Gupta
Rakesh Bedi as Bhoorey Lal
Feroz as Chhedi
Sohit Vijay Soni as News Anchor
Vijay Kumar Singh as Master Bhoop Singh
Sandeep Anand as Puttan
Nitin Jadhav as Manohar
Anu Awasthi as Anu Awasthi
Hardik Gohil as Laddoo Tiwari
Anup Kumar Singh as Pundit Ramphal
Naveen Bawa