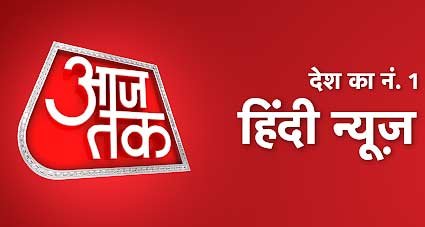 The Living Media Group owns Aaj Tak, a Hindi language channel. Aaj Tak is hailed for being the oldest Hindi news channel to be broadcast in India. In addition, the broadcast area of Aaj Tak spans India and international countries.
This popular news channel is also rated as the most widely watched channel in India. More so, this channel enjoys the maximum subscriptions among all other Indian news channels on YouTube.
The headquarters of Aaj Tak is traced to Noida in the Indian state of Uttar Pradesh.
The year 1995 marks the first broadcast of Aaj Tak as a news program for about 20 minutes on DD Metro channel of Doordarshan. Later, during December 1999, Aaj Tak became an independent news channel. Thereafter, Aaj Tak started being broadcast 24*7, which was the first among Hindi news channels in India.
From a viewership base of 52 lakh households when the channel was launched, Aaj Tak has gone on to being watched in over 3 crore households over the years. The channel boasts of a 55% market share. Also, Aaj Tak was rebranded in January 2021.
Among the sister channels of Aaj Tak are Delhi Aaj Tak, Tex, and India Today.
Some journalists that are associated with Aaj Tak channel include Aroon Purie (Chairman of the India Today Group), Rajdeep Sardesai (Consulting Editor of the India Today Group), Chitra Tripathi (Deputy Editor), Sweta Singh (Executive Editor), and Anjana Om Kashyap (Executive Editor).
As per the results of a poll that was conducted by both Reuters and BBC, Aaj Tak was found to be the most trusted among the Indian participants.
Aaj Tak Female News Anchor

(अंजना ओम कश्यप)

Born: 12 June 1975, Ranchi, Jharkhand
Spouse: Mangesh Kashyap

(चित्रा त्रिपाठी)

Born: 11 May 1986, Gorakhpur, Uttar Pradesh
Spouse: Atul Aggarwal
Qualification: Post Graduation

(श्वेता सिंह)

Born: 21 August 1977, Patna, Bihar
Spouse(s): Sanket Kotkar
Qualification: Mass Communication

नेहा बाथम

मीनाक्षी कंडवाल

श्वेता झा

नवज्योत रंधावा
Aaj Tak Male News Anchor

सुधीर चौधरी

Born: 7 June 1974, Hodal, Haryana
Spouse(s): Niti Chaudhary
Qualification: Mass Communication

शम्स ताहिर खान

विक्रांत गुप्ता

सईद अंसारी

प्रभु चावला

गौरव सावंत

राजेश पवार

Shubhankar Mishra

शुभंकर मिश्रा