e-SHRAM(Shramik) Card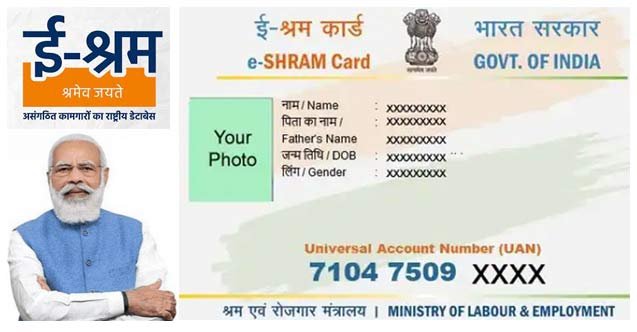 The e-SHRAM card offers a range of benefits to workers who are engaged in the unorganized sector. The beneficiaries of the e-SHRAM scheme will receive not only 500 rupees per month but also Rs 2 lakh accidental insurance cover. The e-SHRAM portal was unveiled by Narendra Modi, the Prime Minister of India, on 26th August 2021 for offering social security benefits to the unorganized sector workers.
The e-SHRAM portal has a database of workers from various sectors. These include agriculture, fishing, transportation, apparel, manufacturing, construction, platform work, domestic work, street vending, among others. A considerable percentage of migrant workers are employed in these sectors.
The Economic Survey 2019-20 declared the number of workers who are employed in the unorganized sector in the country to be 38 crores. By registering on the e-SHRAM portal, these workers can enjoy a range of benefits.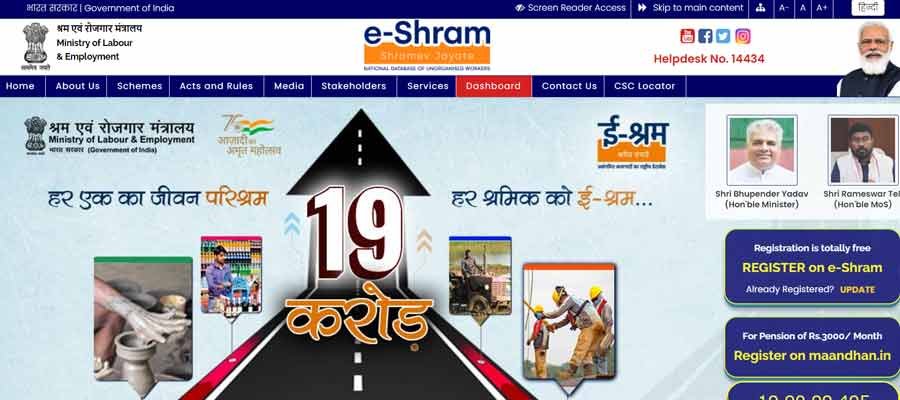 e-SHRAM Card: Benefits
The benefits of the e-SHRAM card are discussed below:
The unorganized workers receive an e-SHRAM card after registering on the e-SHRAM portal,

https://eshram.gov.in/index.php/

.

Each e-SHRAM Card contains a Universal Account Number (UAN) through which the beneficiaries get social security benefits.

Registered e-SHRAM workers who have an accident can apply for Rs 2 lakh in case of death or permanent disability and Rs 1 lakh for partial disability.

Yogi Adityanath, the Chief Minister of Uttar Pradesh, is offering Rs 500 every month to workers who register for the e-SHRAM card.
e-SHRAM Card: Who can apply?
Nurse, ward boy, rickshaw driver, painter, tile worker, temple priest, fisherman, sculptor, shopkeeper, electrician, barber, beauty parlor worker, receptionist, paper hawker, animal husbandry worker, cleaner, cook, housemaid, chaatwala, stone breaker, nrega worker, rickshaw puller, false ceiling worker, hotel waiter, welder, courier boy, agricultural laborer, driver, shepherd, clerk, coolie, aaya, cobbler, tailor, barber, plumber, mine worker, brick kiln worker, welder, cobbler, tailor.

Indian citizens between the age group of 18 to 59 years are eligible to apply for the e-SHRAM Card.
e-SHRAM Card: Documents Required
Bank account number

Aadhaar card details

Registered Mobile Number that is linked to Aadhaar Card
Step 1: Visit the official website of E-Shram @register.eshram.gov.in
Step 2: Check home page details and go for Self Registration.
Step 3: Enter Your Aadhar Linked Mobile Number.
Step 4: Fill up Captcha Code.
Step 5: Click on Yes / No option for EPFO and ESIC.
Step 6: Click on Send OTP Button.
Step 7: Open the Application Form and fill up details.
Step 8: Upload all required documents.
Step 9: Click on submit button and Take a printout of the application form.
E Shram Card Benefits:
Youtube Video Link – https://www.youtube.com/watch?v=0NX8Wiipvo8
Bye —